The 3 best places in Tenerife to practise hiking during Christmas
Spending Christmas in Tenerife has many advantages. Especially if you love hiking through the mountains to enjoy nature and its spectacular beauty in your favourite way: by foot.
The Canary Islands are known for having a good climate all year round, so even if it's the middle of winter you can expect pleasant temperatures at the coast and throughout the lowlands. Mind you, if you are thinking of going up Mount Teide on foot, please remember that the Teide is the highest peak in Spain and that right now, at an altitude of 3,718m, it is very cold. So, please, wrap up well! You will always be able to take off layers if necessary.
But the advantages of the climate are not the objective of this article. Today we would like to show you the best places in Tenerife to go hiking at Christmas so that you can enjoy the beauty of its nature in its purest form.
48.6% of Tenerife's surface is protected. This is good news for you, because you have almost half of the island at your disposal to discover with your boots and rucksack by hiking during this festive period, what you most enjoy doing in your free time.
The truth is you have many options to choose from and probably too few days to do this all, which is why we suggest the only 3 places in Tenerife you should hike this Christmas to get a complete view of nature on this wonderful island, full of microclimates, and therefore, boasting many different landscapes.
Walk through forests and along paths that will make you feel one with nature. Magical places where you can gather your thoughts whilst you listen to the silence and breathe in the clean air.
Lose yourself in the leafy green forests of Anaga
We recommend that you visit Anaga Rural Park and walk along one of its green laurel woodland trails. This magical place was declared a UNESCO Biosphere Reserve in 2015 and is one of Tenerife's geologically oldest areas.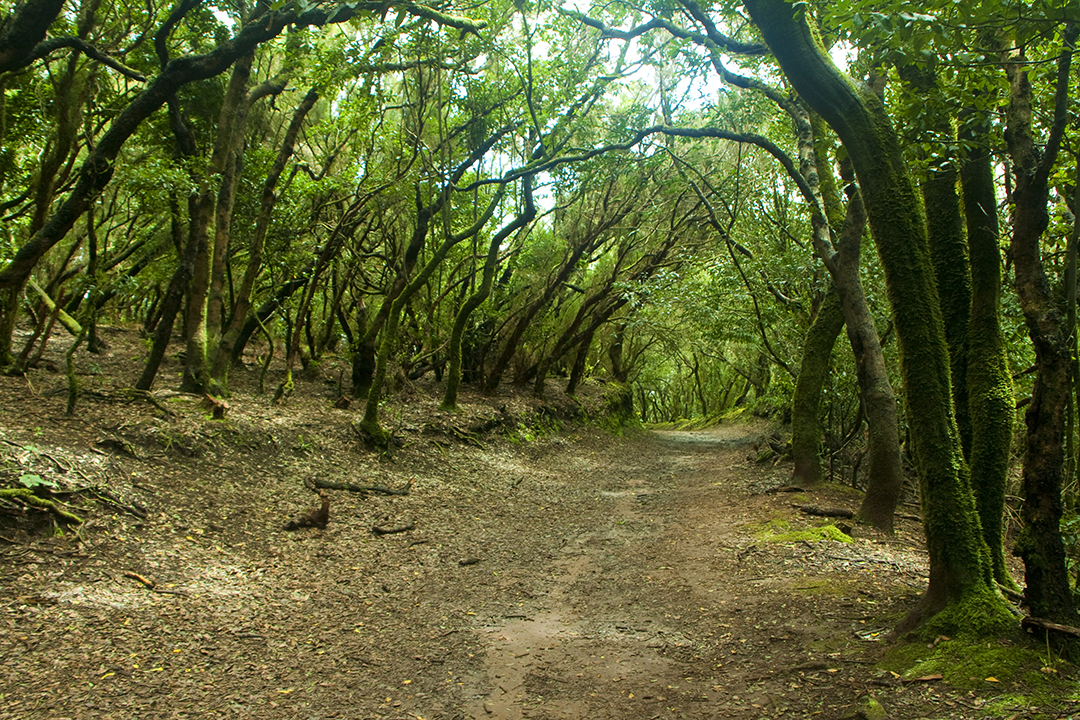 A walk along any one of the paths in this rural park, filled with deep valleys and ravines, has its reward. At the end of the walk you will be able to take off your shoes on the beach and dip your feet in the sea.
This is what awaits you this Christmas if you choose to practise hiking in Anaga:
The laurel woodland is one of the islands main attractions. In fact, here you can find Tenerife's most extensive concentration of laurel woodland
Coastal bays with black, fine and shining sand at the end of the trail
Thousand-year-old geological formations
Cliffs and very steep precipices
Inspire yourself with "Las Vueltas de Taganana" ("The Walks around Taganana") and this Christmas, walk along the only route that up until a few years ago linked the village of Taganana and the metropolitan area of Santa Cruz and La Laguna.
If you also want to sleep here, lost amongst nature, we recommend Anaga Refuge, in the El Bailadero area, which overlooks both slopes of the Macizo de Anaga!
Walk through Tenerife's deepest ravines in Teno Rural Park
You will need to move to the north-western end of Tenerife to explore the very complicated mountain ranges of this rural park, but it is well worth while.
This is what awaits you this Christmas if you choose to practise hiking in Teno Rural Park:
You will walk through the deepest ravines in Tenerife
You will visit places full of charm, such as the village of Masca, a picturesque enclave which boasts one of the best examples of traditional Canary architecture
You will feel one with nature while you explore its valleys, Isla Baja and laurel filled areas by foot
You will be able to breathe in deeply while you contemplate, lost in thought, it's sudden precipices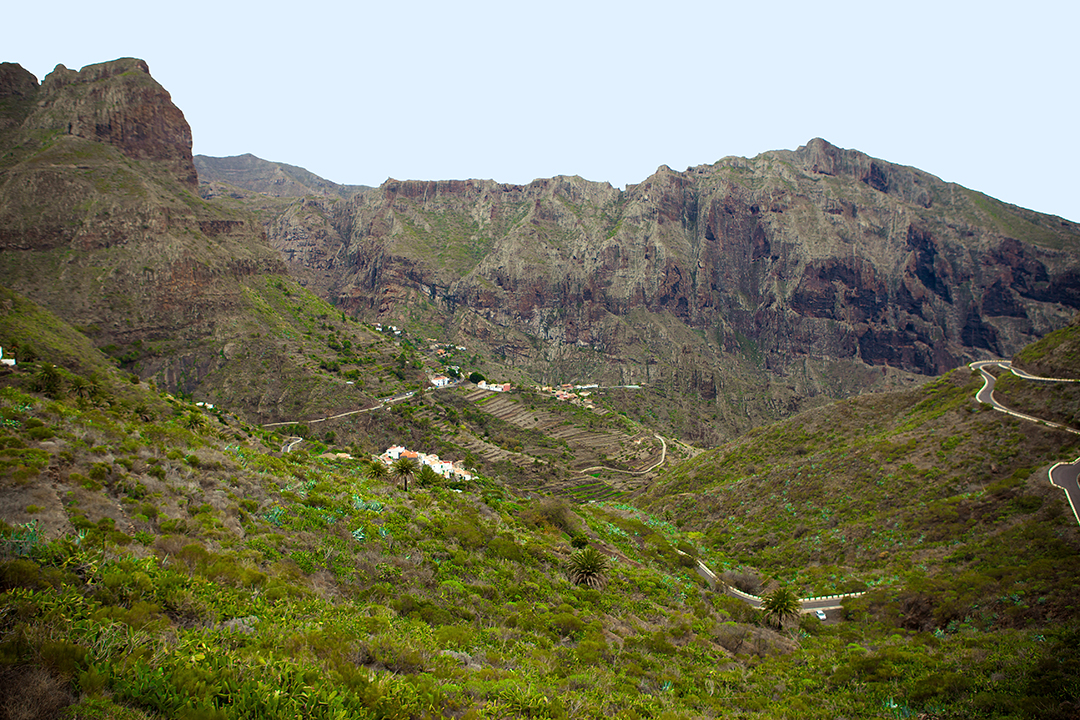 We recommend that you hop over to the Los Pedregales Visitors Centre in Buenavista del Norte to get information about the network of paths in the Teno Rural Park so that you can soak up the beauty of this stunning place.
If you would also like to sleep here, virtually isolated from everything, we recommend the Bolico Refuge, a 30-minute walk from Garachico and a 20-minute walk from Masca.
Enjoy the silence and the best views of Tenerife from Teide's Peak
Coming to Tenerife to learn about the island through its trails but to not make your way up Spain's highest peak is like travelling to Rome and leaving the city of love without having seen the Coliseum. You come home happy but with that feeling that you missed out on something essential.
We usually leave things until the last minute, but if you would like to ascend to Teide's crater during your Christmas vacation in Tenerife, planning is key.
Many people come to Tenerife with their sole objective being to visit the Teide crater so that they can make the most of the magnificent views at 3,718 m, a reward for the effort put into the ascent. However, for conservation reasons, the Teide National Park limits the number of people who are allowed to climb to the crater each day to only around 200, just to give you an idea.
The permit to access the crater is free of charge and it is possible to reserve it through the National Parks' website, by through booking far in advance. There is limited availability, if any at all, if planned last minute.
Luckily, the National Park reserves certain daily amount of permits for guided tours, such as our Ascent to the Peak by Cable Car or on foot, which you can book without transport if you have already rented a car, or with transport if you do not have your own car or you prefer to leave it parked near the hotel to discover Mount Teide during the journey through the explanations of the guide.
All our trips are for small groups of 15 people or less because we know how important it is to reduce the time taken picking up people as much as possible so as to maximise the overall time enjoying the trip.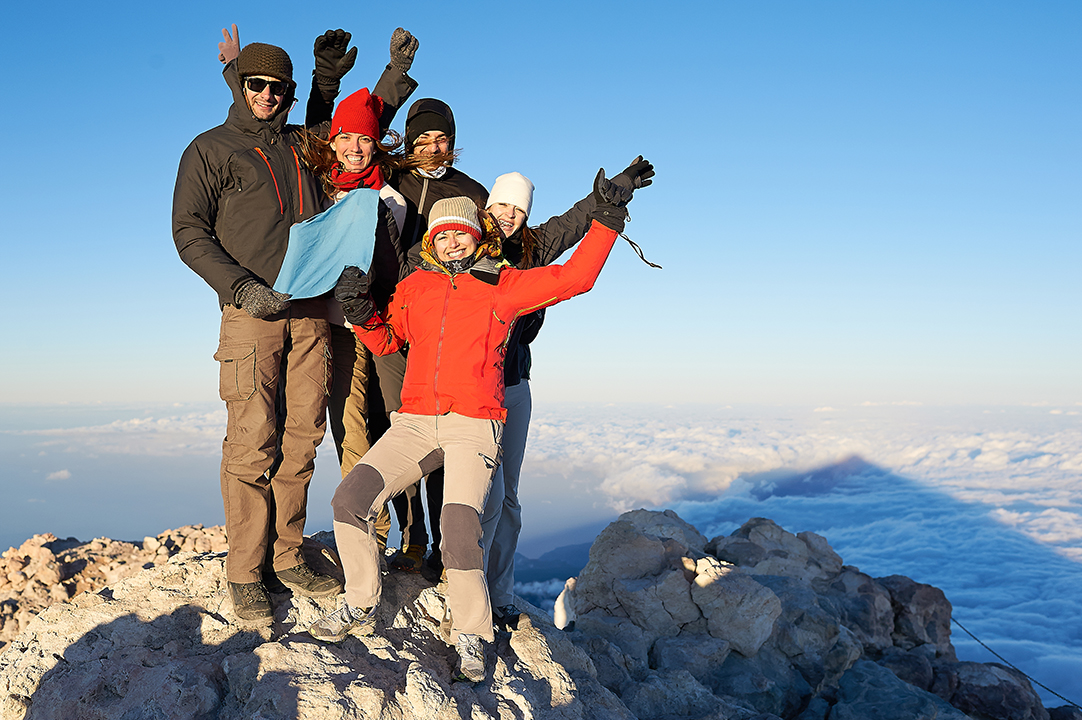 This is what awaits you if you ascend Teide's Peak on foot this Christmas:
You will reach Spain's highest peak and the summit of the third highest volcano in the world, measured from its base on the ocean floor
You will feel overcome by one of the best feelings in the world when you allow your eyes to lose themselves on the horizon of one of the best views in Tenerife
You will feel the heat of the volcano when you warm your hands in one of its volcanic vents
You can get to know the volcano in the best way possible: by feeling under your footsteps what the volcanic rocks tell of the path to the summit
And if you want to spend a night in the only refuge on Mount Teide to be at the summit just before sunrise and enjoy the show of volcano's shadow cast towards the horizon and over some of the islands of the Canary Archipelago with your own private guide, we recommend our VIP Sunrise at the Peak tour.
These are our suggestions. Now it's your turn to choose the path you want to follow to enjoy the magnificent natural and ethnographic heritage of Tenerife.
Leave us a comment. We would love to know which trail you are planning to do this Christmas during your vacation in Tenerife.
Share this