Interview on Sunset and Stars on Teide to Godfrey Hall, UK Travel Writer
On the 21st of January 2016 our stargazing experience Sunset and Stars on Teide received a huge group of UK Travel Writers.
What's Sunset and Stars on Teide
Put simple, Sunset and Stars on Teide is the most exclusive stargazing experience of Tenerife.
A 4 hour leisure activity on the highest peak of Spain where nature enthusiasts can enjoy the spectacle of Teide's shadow at sunset at 3.555 m high, toasting with a glass of sparkling Canarian wine.
But Sunset and Stars on Teide is much much more than breathtaking views of Pico Viejo and the neighbouring Canary Islands from the peak of Mount Teide.
Sunset and Stars on Teide is an experience for gourmets too. In this stargazing experience, travellers can revel in the savours of the Canarian cuisine on a gourmet dinner at Teide Cable Car base station.
And Sunset and Stars on Teide is an experience for stargazing lovers. Travellers on this activity can look at the stars first with the naked eye and then with long range telescopes. ¡And always with the explanations of Starlight astronomical guides!

Interview on Sunset and Stars on Teide with UK Travel Writer Godfrey Hall
And now to what matters today: our interview with Godfrey Hall, UK Travel Trade Journalist of the Year between 2003-2004, on his impressions on Sunset and Stars on Teide.
All the photos on this blog post are from Godfrey Hall. Enjoy them!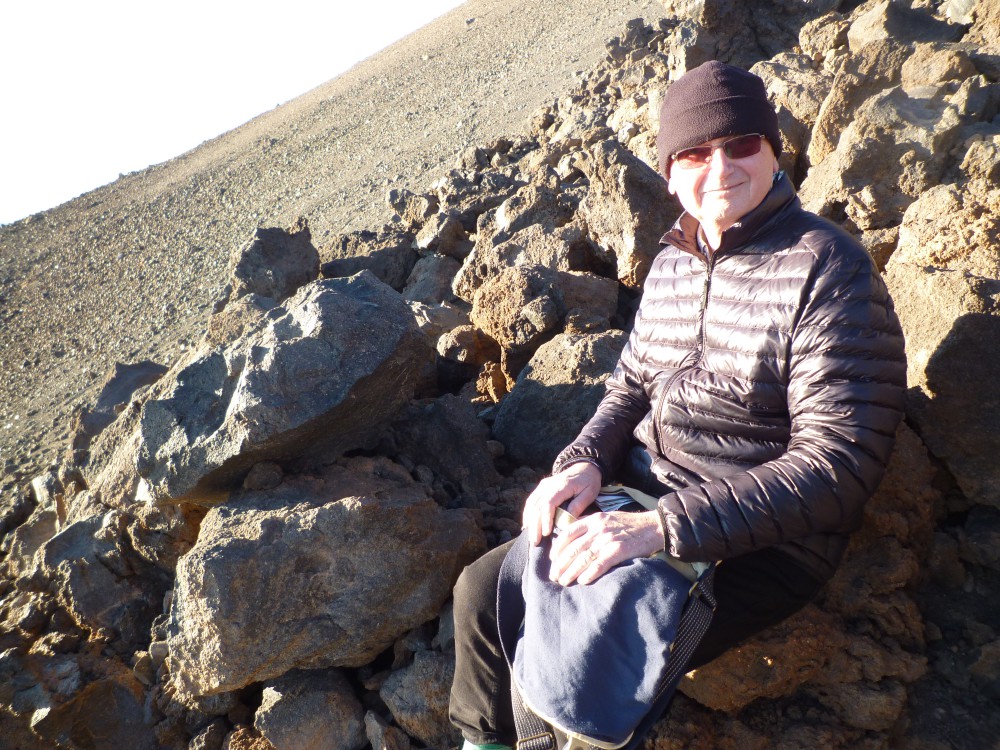 Q: Tell us a little bit about yourself, Godfrey
A: I have been a freelance travel writer for over 30 years. During the last five years I have become more and more fascinated by volcanoes and last year had the opportunity to visit Mount Etna in Sicily. I have also written a large number of non fiction children's books many of which have travel themes. I was the UK Travel Trade Journalist of the year between 2003-2004. I am a member of the British Guild of Travel Writers and have written for the BBC, CNN Traveller Magazine, Sky Travel, and a wide range of international travel publications.
Q: On the 21st of January 2016 you lived the most exclusive stargazing tour on the island of Tenerife. If you were to summarise the experience in a single sentence, what would that be?
A: An amazing awe inspiring event which opened up a whole range of totally new experiences.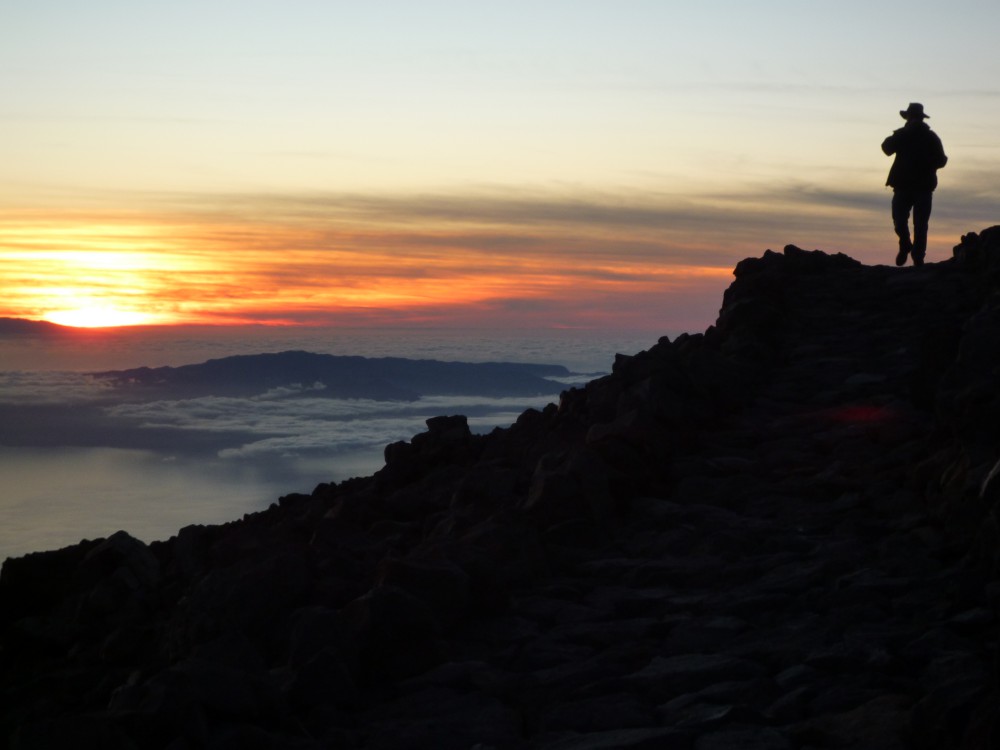 Q: What were you expecting before starting Sunset and Stars on Teide? Were your expectations met?
A: I had no idea that the spectacle of the sunset was going to be so impressive and that the star gazing awards would be so informative. The whole experience was just mind blowing!
Q: You used the Teide Cable Car to reach the viewpoint of Pico Viejo. Did you enjoy gliding over lava flows and craters?
A: As you will be aware this was my first journey in a cable car for over 50 years due to a fear of heights. However with the support of colleagues and your staff I was able to overcome this worry and spent the rest of the evening having a great time. I have to confess I kept my eyes closed on the way up but on the way back I was able to enjoy the view.
Q: You were able to see the sunset at 3.555 m high from the viewpoint of Pico Viejo. You were lucky enough to see four other islands of the Canarian archipelago: La Gomera, La Palma, El Hierro and Gran Canaria. What did you feel at that very special moment?
A: Proud, privileged and honoured to be part of this event.
Q: Was there something that really surprised you from the explanations that our specialised guide offered you on Mt. Teide? Something that you were completely unaware of?
A: I have to say that I was unaware that with a guide and a permit you could actually make your way right to the top of the volcano.
Q: Did you toast with Canarian sparkling wine at 3.555 m? How does it feel to toast with volcanic wine at such an altitude, with the sunset as your background?
A: It made me feel on top of the world!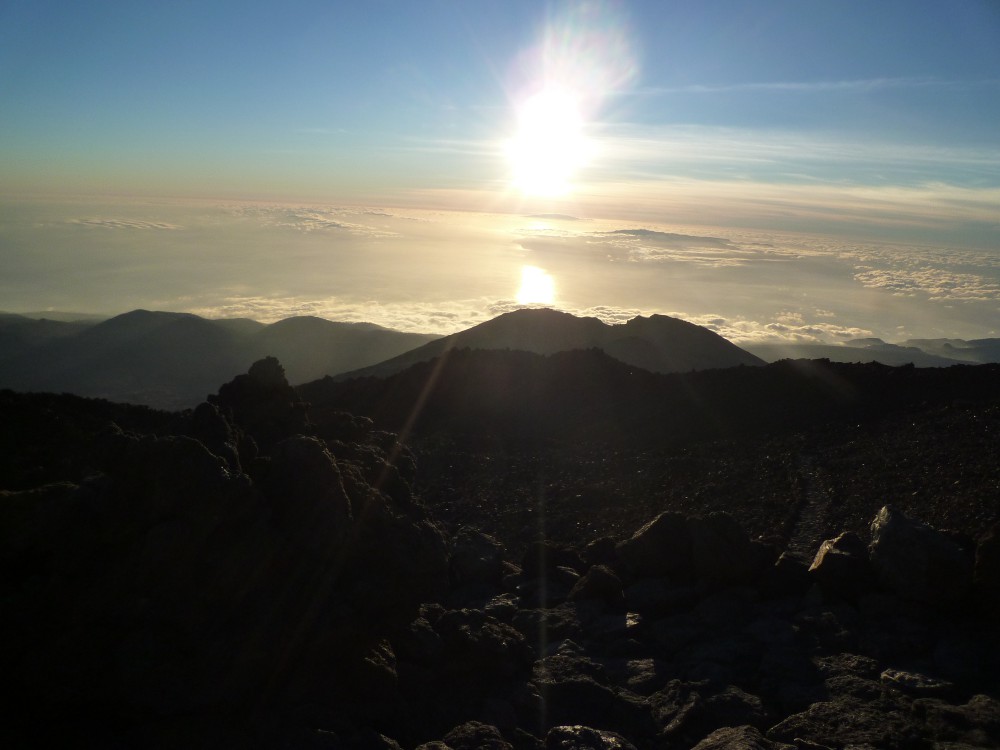 Q: Just after the sunset and before the stargazing session on Mt. Teide you had time to savour some gourmet-style Canarian dishes with Canarian wines at Teide Cable Car base station. May we ask you to summarise your feelings?
A: I was most impressed with the wide range of local dishes and the quality of the food. It gave me a chance to try new things. I especially enjoyed the cheeses and of course the wonderful wrinkly Canary Island potatoes that are so much part of Tenerife life. I have to confess that I did rather indulge myself!
Q: Your Sunset and Stars night at Mt. Teide ended with a stargazing session with telescopes and Starlight certified astronomical guides. If you were to explain someone what you experienced in this stargazing session, what would you be explaining?
A: Being an amateur I was most impressed by the background knowledge of the guides and the fascinating presentation. I learnt a great deal. The chance to use the impressive range of telescopes was a real bonus. The constellations and stars chosen were ideal for a beginner such as myself.
Q: The Moon was shining on your night visit to Mt. Teide. Did you manage to take a picture of the Moon via the long range telescopes? What did you feel when observing our satellite from such a short distance?
A: The image of the Moon was quite overpowering and it made you realise how close astronomically we are to this natural satellite. Although I I didn't get the chance to take a photo through the telescope I know of a number of the group who did.
Q: Is there any article on Mt. Teide at night written by you where our readers can gather a deeper insight of what to expect on a night visit to Mt. Teide to enjoy the sunset and the stars?
My recent experience on Mount Teide has certainly inspired me to put together a feature on the event which will hopefully will be in print and on the Internet later this year. In the meanwhile I have several general features on Tenerife appearing on several major websites and in print. Congratulations to everyone involved in organising this experience. It was just amazing.
You might want to read some of Godrey's publications about Tenerife to get a better insight for your next visit to the island.
Other publications on Mt. Teide and Tenerife by UK Travel Writer Godfrey Hall
There is always time to conquer your fears with a bold step.
Tenerife: An Island with Central American Charm.
There's something to do in Tenerife all year round.
If you've liked what Godfrey has shared with us all on his experience on Sunset and Stars on Mt. Teide, put some warm clothes on your suitcase when preparing your visit to Tenerife.

Share this