Nature and landscape #TEIDELOVER month in our Instagram competition
Hello #TEIDELOVER!
As you know, this is the place for all of us who have this special connection with Mount Teide; this "I don't know," this "it's hard to explain,".
Haven't you ever suddenly seen the triangular shape of Mount Teide everywhere, while you were enjoying the landscapes and nature?
Well, starting from today, immortalise these moments on camera because with your photographs of nature and landscapes on Instagram you can win up to €1,000 and many more prizes!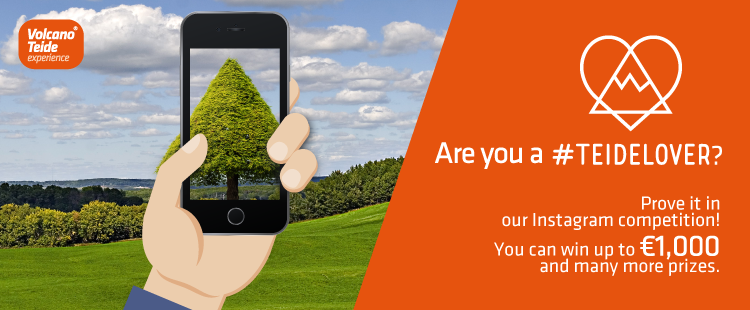 How can you participate in the #TEIDELOVER competition on Instagram in July 2017?
Let's start with what you need to participate:
A smartphone or a tablet with the Instagram app installed and a public profile on this social network site.
You must be over 18.
They say a picture is worth a thousand words, so we invite you to watch this video ↓ in which we explain all you need to do to correctly submit your photos in order to enter our competition.
Remember that the #TEIDELOVER competition theme in July is nature and landscapes and that there is no limit to the number of photos submitted. You can upload as many photos of the silhouette of Mount Teide in nature and landscapes as you want! In fact, the more photos you upload, the bigger is your chance to win.
What else should you consider?
Although we prefer that you submit new photographs, you can also submit photos from previous journeys, trips, etc., which you have already published on your Instagram account and which adhere to the competition theme.
You must spell the hashtag correctly, because even if you mention us,

but do not use the official hashtag, the third party application which we use to manage this competition appropriately, won't identify your participation

.
We only ask you to use the hashtag #teidelover and to mention @volcanoteide, both in the title and not in the comments.
How do you know if you have won our Instagram competition and what your prize is
If you have just discovered this fascinating photography competition for Mount Teide enthusiasts, you should know that #TEIDELOVER is a 2 in 1 because, on the one hand, it is a monthly prize draw in which the winner is selected at random and in which you can win the perfect and most exclusive experience to watch the sunset and the stars in Tenerife and, on the other hand, it is a competition which lasts several months, in which the winning photographs will be chosen by a jury composed of professional photographers, will be awarded different cash prizes up to €1,000, and will also be exhibited on our premises in the Teide National Park.
At the beginning of every month we will announce the winning photograph of the month on our blog and our social network sites. So if you take part in the #TEIDELOVER competition this month and you win, at the beginning of August we will publish your photograph on our Instagram and we will tag you to let you know you're the winner.
Do you want to know more? Read our rules for the #TEIDELOVER competition on Instagram.
Share this