Summer and holiday month in our #TEIDELOVER Instagram competition
Welcome to the home of all those who have a special connection with Mount Teide!
As a #TEIDELOVER there's a "certain something" in your relationship with the Tenerife volcano that causes you to see it everywhere, and this August in our Instagram competition we're looking for the triangular silhouette of Mount Teide in things related to the holidays and the summer.
Go to ► to find out whether you are a true #teidelover.
If you count yourself as a #teidelover, show it from 1st August by uploading your photos of the silhouette of Mount Teide in things related to the summer and holidays because you can win up to €1,000 and lots more prizes with your photos in our Instagram competition!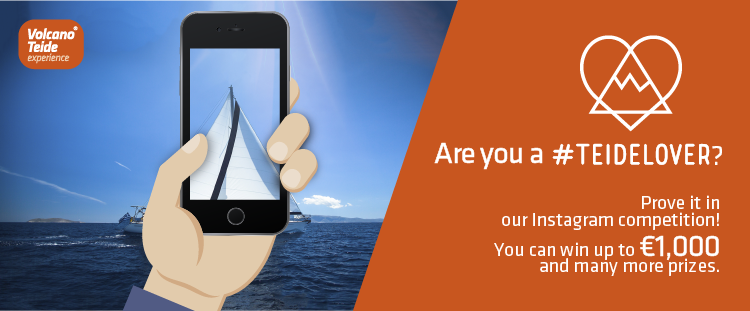 How to enter the August 2017 #TEIDELOVER Instagram competition
What if we start by telling you what you need to take part so that you can see how easy it is to enter the competition?
A smartphone or tablet with the Instagram app installed and

a public profile on this particular social network

.
To be over the age of 18.
They say that a picture is worth a thousand words, so we encourage you to watch this video ↓ where we show you exactly what you need to do in order to submit your #teidelover Instagram competition entry correctly.
Remember that the theme of the August #TEIDELOVER competition is holidays and summer and that there's no limit on the number of entries. You can upload as many photos as you like showing the silhouette of Mount Teide in things related to the summer and to holidays! In fact, the more photos you upload, the greater chance you have of winning the Instagram competition.
What else do you need to know?
That although we would prefer you to enter with new photos that you have already published on Instagram of other holidays, adventures, etc., provided that they fit in with the theme of the competition.
That you must display the hashtag clearly, because even if you mention us,

without the official hashtag, the third-party application that we use to administer the competition correctly on Instagram will not recognise your entry

.
All we ask is that the #teidelover hashtag and @volcanoteide appear in the title and not in the body of your text. It is not compulsory, but we would be really pleased if you did this, so that people can see at a glance that you are entering our #teidelover Instagram competition.
How to find out whether you have won our Instagram competition, and what your prize will be
If you've just discovered this amazing Instagram competition for fans of Mount Teide, you need to know that #TEIDELOVER is a two-for-one offer. Not only is it a monthly prize draw in which you can win the most exclusive and comprehensive package for viewing the sunset and stars on Tenerife it is also a competition over several months, ending in August 2017. The winning photographs will be selected by a panel of judges made up of professional photographers, and various cash prizes of up to €1,000 will be awarded. What's more, the winning photos will be exhibited at our premises at the Teleférico del Teide in the National Park.
Early in September, we will publish the winning #TEIDELOVER photo for August 2017 here on our blog and on our social networks. So, if you take part this month and you win, you will know early in September because we will publish your photo on our Instagram and your name will be mentioned.
Would you like more information about the competition? Read the rules for our #TEIDELOVER competition on Instagram.
Good luck, #teidelover! We'll see you on Instagram with your photos showing the silhouette of Mount Teide in things related to the summer and to holidays. We'll all have a fantastic time!
Share this