#TEIDELOVER monthly prize draws and photography competition
Welcome #TEIDELOVER!
If you are here, it is because you are really in love with Mt. Teide.
So in love that you can identify its silhouette everywhere you go and at all times: in your food, on the street, in the summer things...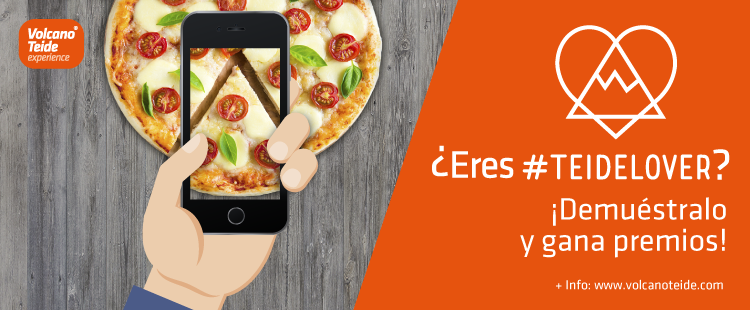 What is #TEIDELOVER?
We have created #TEIDELOVER so that those many of us around the worlds who have a special connection with Mount Teide can share their love for the volcano with the world, through photographs on Instagram.
That inexplicable feeling when everything reminds you of Teide, you know.
Because since you're a #TEIDELOVER, you are able to see its silhouette everywhere.
What do we mean by that? Have a look ↓ and click ►.
In addition, every month we will change the theme of the #TEIDELOVER prize draw, so that you can unleash your creativity. Check out our blog.
Isn't it amazing?
May 2017 #TEIDELOVER photography competition theme
This May, prove that you are a real #TEIDELOVER by sharing on your Instagram photos of Mt. Teide's silhouette in different types of food.
You know, a nacho doesn't look like a nacho to you: it is the silhouette of Mt. Teide.
A slice of pizza is much more than tasty food that you eat with your hands. If you cut it perfectly, it is the silhouette of Mt. Teide.
You're getting it, aren't you?
Now, it's your turn to share your culinary version of Mount Teide and participate in our #TEIDELOVER competition this May.
From now on, keep your mobile phone always close around food, because if what you are going to eat reminds you of Teide, you can win a prize!
#TEIDELOVER Instagram competition prizes
Being a real #TEIDELOVER is rewarded with a prize. And what a prize!
By sharing your photos of the silhouette of Mount Teide on Instagram and meeting the requirements to participate which we explain below, you will take part in the monthly prize draw of the most complete experience to watch the sunset and stargaze in Tenerife.
With Sunset and Stars on Teide you will experience the excitement of watching the sunset from the highest peak in Spain.
Furthermore, you will taste a delicious cocktail dinner menu designed by Erlantz Gorostiza, a renowned chef awarded 2 Michelin stars.
And you will observe the stars in one of the best places on the planet for stargazing: on Mount Teide.
Take part in one of the #TEIDELOVER prize draws (or in all of them!) and opt for winning this experience to enjoy Tenerife's most exclusive stargazing tour to Teide to the fullest.
Furthermore, by submitting your themed photographs every month, you will automatically enter into our #TEIDELOVER competition, in which you can win up to €1,000!
How can you participate in the Volcano Teide #TEIDELOVER competition?
The requirements to participate in our #TEIDELOVER competition are very simple:
You must be a real #TEIDELOVER, from any part of the world; you must be over 18 years old and have a real and public profile on Instagram (you will not be able to participate if your Instagram profile is private).
Upload to your Instagram as many photos as you want of the silhouette of Mt. Teide that you can see in things related to the current month's theme (this May it's gastronomy), tag them with the hashtag #TEIDELOVER and mention @volcanoteide.
It's that simple.
Read the competition rules to learn more about our #TEIDELOVER prize draws as well as the competition and the prizes.
How do we choose the winner of the #TEIDELOVER monthly prize draw and the winner of the competition?
Each month, at the end of the month (or over the first few days of the following month) we will automatically and randomly draw a #TEIDELOVER winner using a third party application, and we will publish the winning photograph along with the #TEIDELOVER winner's Instagram username on our Instagram account as well as on our blog and other social media profiles.
The #TEIDELOVER winner of every month must contact us by sending us a private Instagram message, providing us with an e-mail address to which we can send 2 invitations for Sunset and Stars for 2 people. The invitations do not include transportation, they are non-transferable and valid for one year from the date of announcement of the winner photo of the month.
As you know, by taking part in monthly prize draws you also participate in the competition.
The winner of the #TEIDELOVER competition will not be selected at random like in the monthly prize draws, but a jury composed of professional photographers will choose 3 photographs from among all the photos submitted over the 4-month duration of the competition.
The winning #TEIDELOVER photograph will receive a €1,000 prize, the first finalist a €500 prize, and the second finalist a €250 prize.
In addition, after the conclusion of the competition period, we will exhibit in the Teide Cable Car facilities all the winning photographs: both monthly winners and the winners of the competition.
Good luck!
Share this