The Teide Cable Car brings in even more customer satisfaction
During the month of January 2017, the fifth Teide Cable Car Customer Satisfaction Survey took place, in which 420 face-to-face interviews were conducted.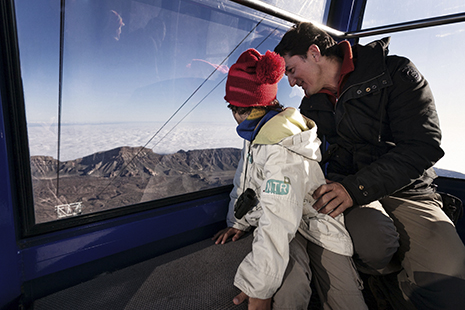 Said study reflects a remarkable increase in customer satisfaction with a general satisfaction rating reaching 8.94. This beats the rating in the Summer of 2016 (8.45), as well as in August (8.22) and September (8.71). The results of this survey surpass the all-time record rating of 8.73, from the February 2012 survey.
The valued, improved service can be attributed to the simplicity of ticket sales, the online ticket service, the cared for and well-maintained walks and viewpoints, the cleanliness of the well-maintained facilities, the way we personally pay attention to customer detail, and reduced waiting times.
What customers were most satisfied with, in comparison to the Summer survey, was the latest investments in Teide Cable Car's infrastructure and technical elements. In addition, passengers also particularly valued the decrease in waiting time, the waiting room, car park and the information provided at the ticket office.
In September, after the implementation and settlement of the new ticket sales system (with timetabled bookings) and the renovation of the base station, we could already see the significant improvement in customer satisfaction levels in comparison to August. The January survey also revealed that customer satisfaction regarding waiting times continues to increase.
The fall in customers mentioning waiting times is significant. In August 2016, 50% of those interviewed mentioned waiting times, compared to only 5% in the latest survey. Furthermore, parking complaints have also decreased, as well as complaints in general information and overcrowding. References to queue management, delays with online tickets or the lack of shade were not even mentioned. This survey was conducted by Servicios Avanzados de Opinión, a Spanish company that specialises in surveys and studies.

Share this