Urban #TEIDELOVER month in our photography competition on Instagram
Welcome #TEIDELOVER!
This is the place for all of us who have this special connection with Mount Teide. This "I don't know," this "it's hard to explain," you know what we mean.
How many times have you walked down the street and seen urban elements whose shapes remind you of Mount Teide?
Starting from today, and throughout the month of June, do not leave your mobile phone at home because you can win up to €1,000 with your mobile phone and your Instagram.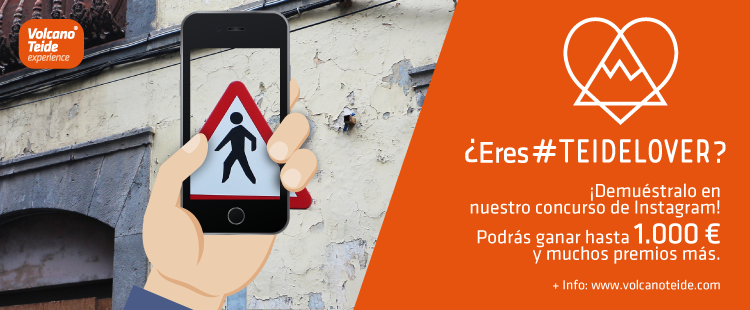 How can you participate in the #TEIDELOVER competition on Instagram in June 2017?
Entering our #TEIDELOVER competition is very easy.
If you are over 18 and have an account on Instagram, keep reading.
The following is your indispensable participation kit to show the whole world that you are a true #TEIDELOVER:
A smartphone
A public Instagram account (this is important because you will not be able to participate with a private account).
Do you meet the basic requirements to enter our competition and show the whole world that you are a true #TEIDELOVER?
That's great! These are the steps you need to take on Instagram to participate in our #TEIDELOVER competition in which you can win up to €1,000, among many other prizes.
Take photographs of all the urban elements that remind you of the silhouette of Mount Teide.
Upload these photos to your public Instagram account and tag them with the hashtag #TEIDELOVER (make sure that you spell it correctly or the application we use for this competition will leave your photograph out of it and we wouldn't like that!)
Mention @volcanoteide
Make sure to include the official hashtag and to tag our account in the title of the image you upload to your Instagram profile.
And remember: you can increase your chances to win by submitting several photos, preferably new, although you can also participate with photographs which you have previously published on your profile.
Prizes in the #TEIDELOVER photography competition and winner selection
#TEIDELOVER is a 2 in 1 and we are about to explain why.
By uploading your photographs to Instagram and tagging them with the hashtag #TEIDELOVER this month of June you enter a random monthly prize draw.
The prize? The Sunset and Stars on Teide experience for 2 people, which is the perfect and most exclusive experience in Tenerife to watch the sunset and the stars.
But there is more, as we have mentioned above!
Because your photos will also be entered automatically into the #TEIDELOVER competition in which you can win up to €1,000 if our external jury of professional photographers chooses one of your photographs as the winner, the first finalist (€500) or the second finalist (€250).
And if you win one of the monthly prize draws or the entire competition at the end of August 2017 we will exhibit your photograph on the premises of the Cable car base station so that everybody can enjoy it!
Read the rules for our #TEIDELOVER competition on Instagram to get more information. The rules explain in detail such important things as how to participate, how the monthly draws and the competition are run, how the winners are chosen and what prizes are awarded, among other useful information.
Any doubts? Leave us a comment and we will clear them right away!
Share this