Every year, an average of 3.5 million people visit the Teide National Park, drawn by its scenery, or by an interest in science, astronomy or volcanology.
The highest peak in Spain has been a World Heritage Site since 2007, and we all have a duty to ensure its conservation, so that future generations will be able to go on enjoying its wonders just as we do today.
In addition to abiding by all the rules of good behaviour required to protect the environment of this jewel of Nature, we can all contribute to its sustainability in other, small ways.
Join the #teidelover club!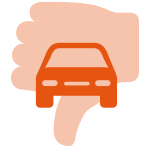 It is important that together we do what we can to counteract overuse of the vehicle parking areas in the National Park. Given that the parking areas are within a protected natural area, they have been kept to a small size as a conservation measure, and they cannot be extended.
If you can avoid visiting by car, please do so. If you have to use your car, we recommend that you arrive at the Park after 1.00pm.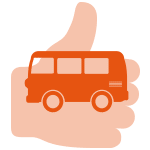 If you possibly can, visit Teide on a private excursion or use the public bus service. Public transport services are available which have stops at the main interest sites on both the north and the south of the island. TITSA and private group excursions limited to 15 people have daytime and evening schedules to take you to enjoy this spectacular place, before, during or after sunset, so that you can enjoy the unmissable ascent to 3,555 m with Teide Cable Car to the most breathtaking views in Tenerife.

Follow our advice, and join the #teidelover club!
A genuine #teidelover knows that they are visiting a protected natural site, and therefore respects Nature.
Help to keep the National Park clean.
Use the litter bins. Do not throw away cigarette ends or rubbish.
Do not stray from the marked paths. You will be helping prevent damage to the environment.
Enjoy the native flora and fauna of this geological treasure, and help them to stay unique. Respect them.
Do not take stones as a souvenir of the National Park. Do not contribute to the ecological damage of this World Heritage Site.
Show that you too are a #teidelover
Share your photos and videos of your sustainable visit to Mount Teide with all the other Teide fans, using the hashtag #teidelover in your posts.