Go up Mount Teide by Cable Car
Enjoy the quickest way to go up Mount Teide.
When you get off the cable car, you will be at an altitude of 3,555 m, and will have various choices on how to take in the stunning views of the largest national park in the Canary Islands.
Choose the viewpoint of La Rambleta to behold the views of the Seven Cañadas and the Ucanca Valley.
If you prefer to see some spectacular views of the islands of La Gomera, El Hierro and La Palma, with the impressive Pico Viejo crater at your feet, which is 800 m in diameter and at one time, hosted an impressive lava lake, then choose the trail to the Pico Viejo viewpoint.
Choose the trail to La Fortaleza to enjoy marvellous views of the northern part of Tenerife or to descend on foot from Montaña Blanca afterwards.
And if you are one of those people who won't leave Tenerife without having reached the summit of Mt. Teide, choose the Telesforo Bravo trail to the peak of Teide and shout 'I am the King of the world' from an altitude of 3 718 m. But remember that for this trail, you will need a special free permit, issued by the Teide National Park's administration, which you must apply for months in advance.
Use the Teide Cable Car Online Ticket and take advantage of its benefits
Avoid queues at the ticket office by purchasing your Online Ticket. You will be able to directly access the boarding area. It is as simple as booking your boarding time for a specific date. 
If you haven't booked your Online Ticket, you will be assigned one of the daily sessions available at the ticket office. However, if you choose this option, you might have to wait several hours in high season to board the cable car or you might even miss the chance to buy tickets for the day of your visit, which is why we recommend that you purchase an Online Ticket and access the cabin directly.
You must show up at the Cable Car boarding area with your Online Ticket, either printed or displayed on your mobile phone, 10 minutes prior to the boarding time specified on your ticket.
If you arrive by private vehicle, which you will need to park, we recommend that you show up at the premises of the Cable Car half an hour prior to the boarding time indicated on your Online Ticket.
If for whatever reason you arrive too late to board at your booked time, you will lose the right to board and you will be assigned the next boarding time available.
Online deal: Teide Cable Car ticket + guidebook or audioguide
Combine your Teide Cable Car ticket with our guidebook of Mt. Teide or hire our audioguides to enjoy the landscape even more and benefit from our discounts.
Buy a Guidebook for the ascent of Mount Teide with a discount of €2.00 and/or an audio guide with a discount of €1.00 by checking the corresponding option during the purchase process of your ascent and descent tickets for the Teide Cable Car.
In order to receive an audio guide it is necessary to leave your passport/ID card or a deposit of €50.00 which will be returned to you when you return the audio guide.
The audio guides are available in the following languages: English, German, Spanish, French and Russian.
New Teide Cable Car booking management system
Do you want to modify your reservation quickly and comfortably, or cancel your booking because the cable car is closed?
No charges apply to changes or cancellations caused by the closure of the Teide Cable Car's facilities due to adverse weather conditions, so access «Manage your booking» at the bottom of the page to cancel or modify your reservation by entering your booking locator and the e-mail address provided at the time of booking.
Highlights
Ascend Spain's highest peak by Cable Car
Enjoy spectacular views of the Teide National Park
Choose from three spectacular trails to walk on the heights
With your Online Ticket you won't miss out on your seat to ascend Mt. Teide
What's included
Direct access to the boarding area without queuing at the ticket office
What's not included
Permit to ascend the peak of Teide
A guide
Additional Information
Opening times
Teide National Park only allows visitors to stay at the upper station for one hour.
Last admission
At 4.00pm
Prepare for your visit
You should be prepared for extremes in weather, both heat as well as cold, depending on the time of year in which you ascend by Teide Cable Car.
Our recommendations:
Wear warm clothing and proper footwear.
Protect yourself from sunstroke.
Due to the elevated luminosity, wear sunglasses.
Take plenty of water on hikes.
Teide Cable Car is located within a protected national park and therefore we must follow a series of basic rules of civic behaviour and respect of the natural environment, such as not littering or taking rocks, plants or animals. Please remember that it is prohibited to make fire, loud noises or to camp.
Restrictions
People with heart problems, pregnant women, and children under 2 are not allowed to ascend by cable car due to the risk that high altitude poses to their health. If you have any health problems, consult your doctor before planning your visit.
Important information
Teide National Park only allows visitors to stay at the upper station for one hour.
The facilities at Teide Cable Car are not adapted to those with physical disabilities.
Changes and cancellations
In the case of vouchers unused because of the closure of the Teide Cable Car's facilities due to adverse weather conditions, the date and time of the Teide Cable Car reservation can be changed free of charge up to 30 minutes prior to the original booking by using our easy booking management module.
No charges shall apply to requests for cancellation of vouchers issued at the ticket office that are motivated by the closure of the Cable Car due to adverse weather conditions.
In the case of vouchers issued but unused for reasons different than the closure of our facilities due to adverse weather conditions, Teleférico del Teide shall charge a cancellation charge of €6.00 per person on two-way ticket vouchers and €3.00 per person on one-way ticket vouchers. The cancellation charge only applies to reservations made directly on our website.
Our facilities
Parking
The Teide Cable Car base station has a free car park with 220 parking spaces, which is open from 8am to 6pm.
Shops
The base station's facilities include an information centre and a shop.
Restaurant / Café
The base station offers visitors a relaxation area, café and buffet restaurant with impressive views over Teide National Park.
Toilets
There are public toilets at the Teide Cable Car's base station.
Special rates
In case of discount tickets for children or local residents, a supporting document is required to prove entitlement to discount.
Where to find us
Getting here
Street: TF-I motorway, km 40.2 - Teide National Park
Postal code: 38300 Municipality: La Orotava
Teide Cable Car is well connected by roads, and can be easily reached from any point of the island of Tenerife.
If you are in the northern part of the island
Take the TF-21 motorway which connects La Orotava with El Portillo de la Villa and crosses the Teide National Park. The Cable Car is at km 43. (N28º 15' 17" W16º 37' 33")
Take the TF-23 motorway from Boca de Tauce to Chío, which connects with TF-21.
If you are in the southern part of the island:
Take the TF-21 motorway from Vilaflor to Teide National Park, the route of access for the tourist areas of Playa de Américas and Los Cristianos.
If you are close to Santa Cruz or La Laguna
Take the TF-24 motorway from La Laguna to Portillo de la Villa (La Esperanza Motorway), which connects with TF-21 that will take you to the base station of the cable car at km 43.
Distances
Mt. Teide is approximately an hour's drive from any point on the island.
Santa Cruz: 64 km
La Laguna: 55 km
Puerto de la Cruz: 45 km
Los Gigantes: 52 km
Los Cristianos: 47 km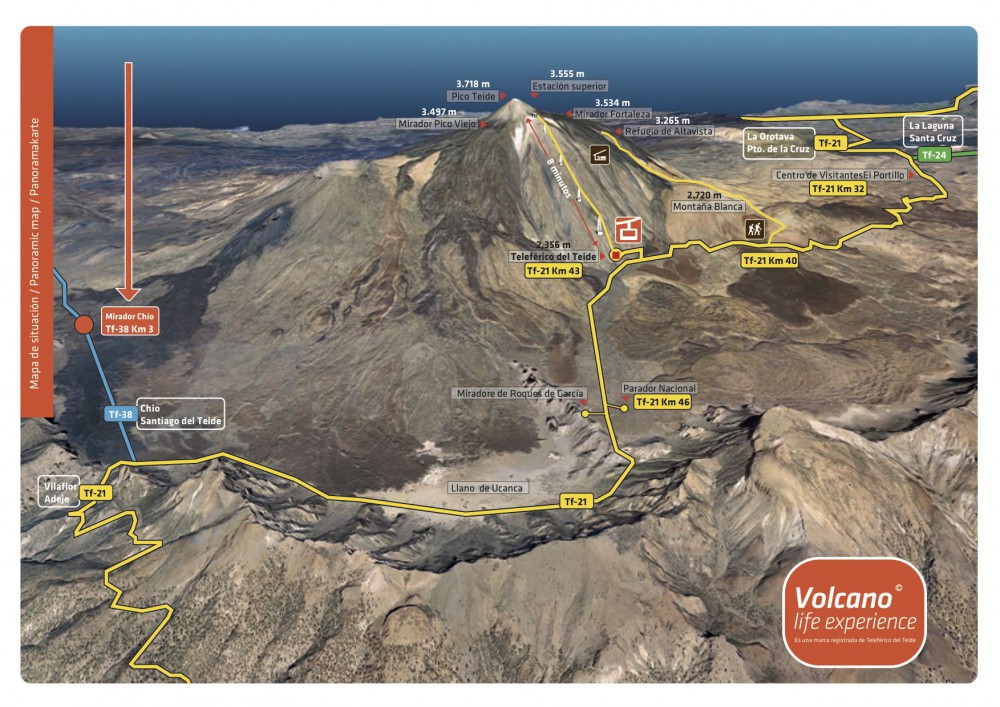 Location