Sunset and stars on Teide
04:00 Hrs
In Detail
Sunset and stars on Teide
This Christmas give a top experience, give the gift of Mount Teide.
Christmas is coming and it is time to choose Christmas gifts; gifts that will stand out amongst all the others as being exciting and unforgettable, a feast for all five senses. Volcano Teide and Erlantz Gorostiza, two-Michelin-starred chef of M.B restaurant, propose that you give the unique experience of Sunset and Stars on Mount Teide.
Can you think of a better gift?
* Select a date to issue the gift voucher. Do not worry if this date changes. The beneficiary of the gift will be able to change it within 1 year from the date of issue of the voucher and until 4 days prior to the selected date.
Exclusive cable car
An exclusive activity for smalls groups. The experience begins with the Cable car ascent up to 3,555 m above sea level giving a sensation of flying over the volcano.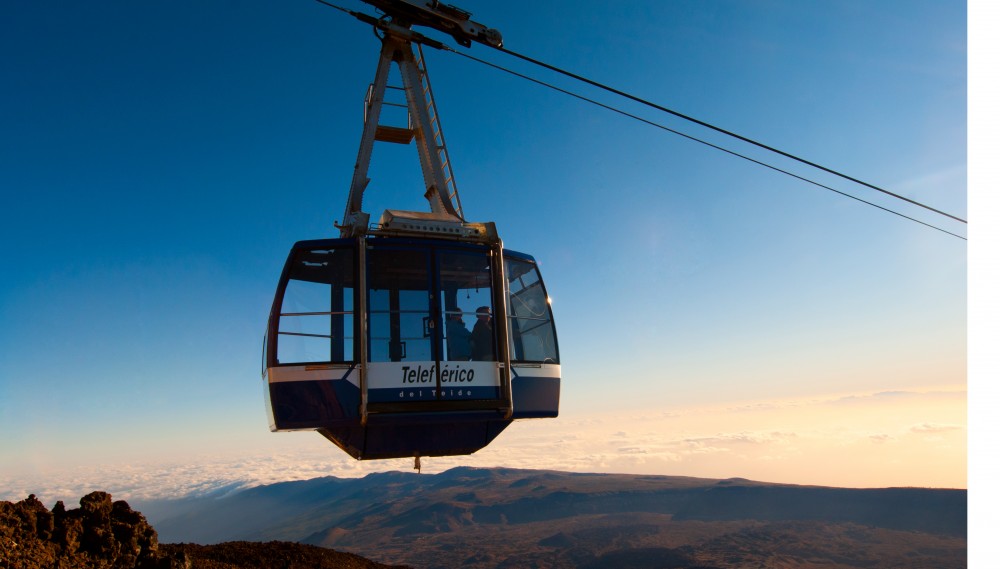 A toast in the shadow of Teide
Once at the top, you will be received with a glass of Canarian sparkling wine from the winery Bodega Altos de Trevejos, whilst beholding the shadow of Teide cast towards the island of Gran Canaria. A unique show of nature.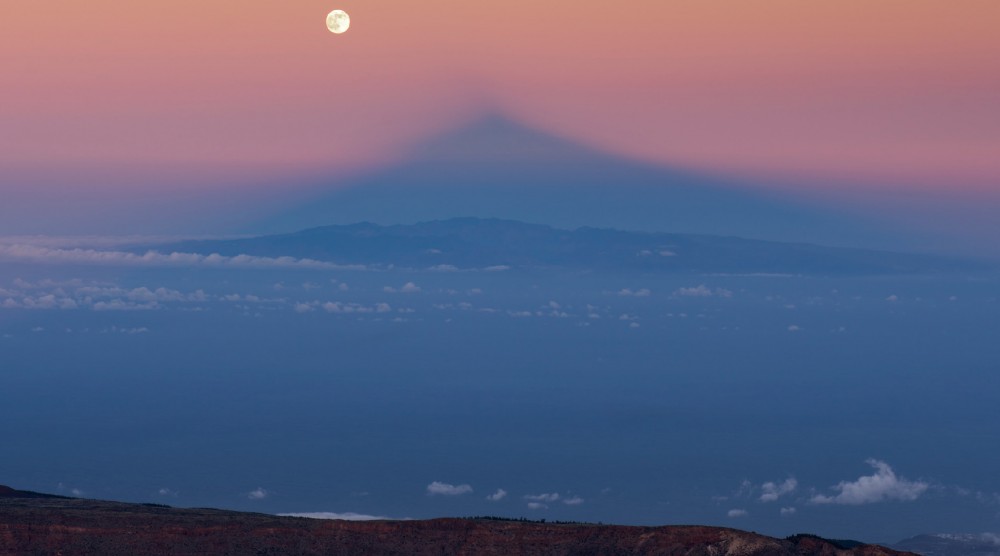 Pico Viejo at sunset
You will continue the experience with a walk to the viewpoint of Pico Viejo to contemplate the sunset in its fullness between islands and volcanoes, with the assistance of our guides who will discover step by step the volcanic wonders.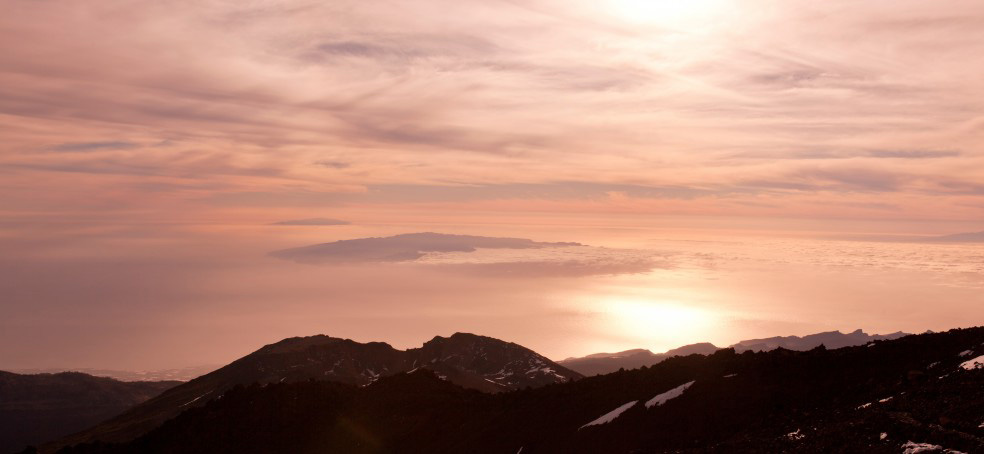 Tasting the traditional cuisine
After the sunset you return to the Teide Cable Car base station, where you will be treated to a cocktail dinner designed by Erlantz Gorostiza, 2 Michelin stars chef of the Restaurant MB, and served by Mag Cátering, made with products typical of the islands and excellent local wines that will make even the most demanding gourmet's mouth water.
The most exclusive stargazing excursion on the island
After the dinner begins the spectacle of the stars, stargazing with the naked eye and with Starlight guides and long range telescopes. You can enjoy the breathtaking starry sky of Tenerife. You will see distant constellations and impressive planets like Saturn. Do you know how many rings does Saturn have?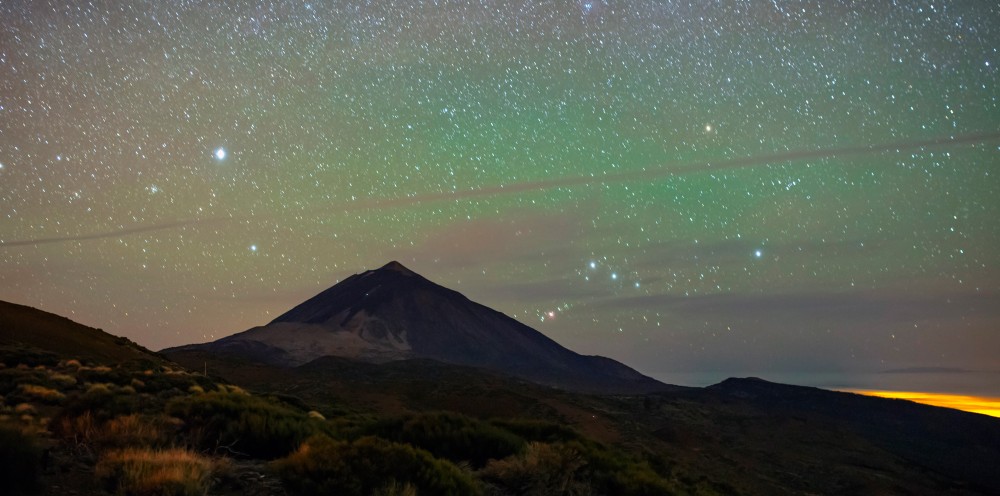 Full moon night
When the brilliance of the full moon make us difficult to see the faint light of distant stars, you can observe our spectacular natural satellite, its mountain ranges, craters, among other lunar wonders.
Unforgettable experience with a team of professionals
The team of Volcano Teide Experience, its Customer and Reservation Service Department, official multilingual guides of Canary Islands, Starlight Guides and Mag Catering, will accompany you throughout the activity Sunset and Stars, giving you the most exclusive excursion on Canary Islands.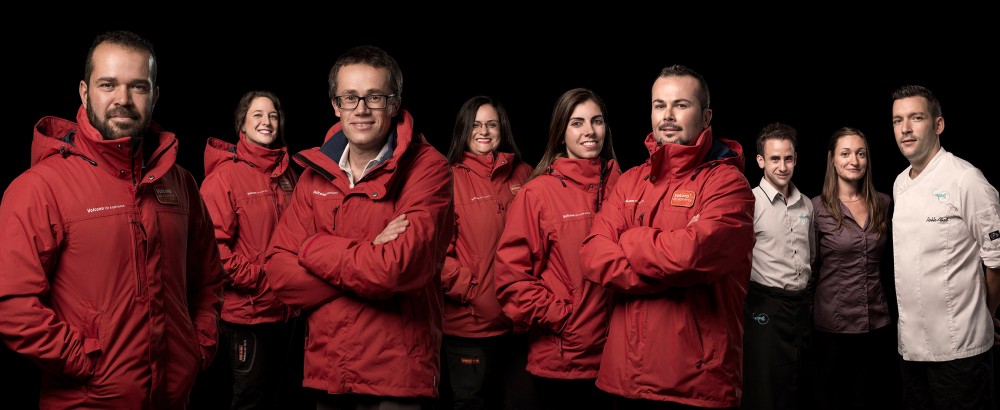 Highlights
Exclusive tour for a maximum of 90 people, divided into different languages.
A glass of sparkling wine from the winery

Altos de Trevejos

from one of the viewpoint terraces of the Cable Car whilst beholding the shadow of Teide.
Sunset from the Pico Viejo viewpoint.
Cocktail dinner designed by Erlantz Gorostiza and served by Mag Cátering.
Stargazing with the naked eye and with Starlight guides and long range telescopes
What's included
Exclusive Cable Car at sunset
A glass of Canarian sparkling wine
Cocktail dinner
Stargazing with naked eye and with Starlight guides and long range telescopes
Spanish, English and German-speaking guides
Additional Information
Recommendations:
Wear warm clothing and proper footwear.
People with health problems should consult with their doctors before undertaking this hike.
This activity is not recommended for people with heart problems, or pregnant women.
Children under 8 cannot use this service.
Important information:
This activity includes a 40-minute walk both ways of medium-low difficulty, therefore it is necessary to be in good physical shape.
If the Cable Car is closed due to weather conditions, we will refund the price of the Cable Car ticket, 40 euros for non-residents and 20 euros for residents. Please keep in mind that in the winter months it is more likely that the cable car is not operational due to meteorological conditions, in which case we would enjoy the sunset from one of the Park's viewpoints.
If the trail is closed by ice or snow, you can enjoy the sunset from La Rambleta and skip the walk to the trail of Pico Viejo.
If the weather conditions prevent or hinder proper visibility of the stars, our guides will use audiovisual equipment to give a virtual tour of the night's sky, the constellations and prominent objects that could have been seen otherwise.
Where to find us
Consult pick-up points. If your hotel is not a designated pick-up point we will contact you to set a time and place for pick-up, once you have made your reservation. Pick-ups are available from the south of the island, Puerto de la Cruz and Santa Cruz-La Laguna.
If no pick-up is scheduled, the meeting point is at the Teide Cable Car base station at the following hours:
NOVEMBER:
5.00pm: from 11th to 25th.
DECEMBER:
5.00pm: from 2nd to 23rd.
5.15pm: Friday 30th.
IT IS NECESSARY TO PRODUCE A COPY OF THE BOOKING CONFIRMATION
Where we will pick you up from
Location
Menu
Star menu to savour Canarian cuisine
Snacks:
Cone of vegetable chips
Cold dishes:
Cheese board of Canary Island cheeses with a garnish and breads of different textures
Balls of gofio (dough made from roasted corn, millet or barley grains) with banana, nuts, dried fruit and honey
Puff pastry filled with smoked cheese and guava
Hot dishes:
Octopus skewer with paprika and papita negra (Canarian black potato)
Almogrote balls with caramelized Guayonje onions
Papas arrugadas (Canarian wrinkly potatoes) served with traditional sauces (mojos)
Fish skewer with orange-fleshed sweet potato
Ribs with millo (creamed corn), potato foam and cilantro
Shot of Canarian chickpeas
Carne de fiesta pork meat casserole
Samosas (fried pastry) with a filling of rabbit in salmorejo marinade
Desserts:
Quesillo (Canarian custard flan) with palm syrup
White and dark chocolate Teide Rocks
Beverages:
Canarian white wine: Valleoro dry (D.O. Valle de La Orotava)
Canarian red wine: Valleoro new (D.O. Valle de La Orotava)
Beer, soft drinks and mineral water

Are you a vegetarian or your diet has special requirements and you do not see enough choices on the menu? Call us at +34 922 010 444 once you have made your reservation and tell us your requests, so you can fully enjoy the cocktail dinner.