The stratovolcano Teide, 3,718 m high, is very close to another spectacular crater of 800 m in diameter: Pico Viejo; the second highest volcano in the Canary Islands whose crater, at one time, hosted an impressive lava lake.
Watching the sunset from the Pico Viejo Vantage Point in Tenerife is a superb experience that you should not miss to enjoy during your visit to Tenerife island.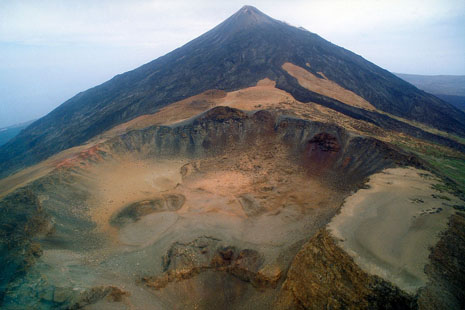 If the weather permits, from the vantage point of Pico Viejo, at sunset, you will see the neighbouring islands of La Gomera, El Hierro and La Palma on the horizon, with the great 800 m diameter crater of Pico Viejo at your feet.

Spectacular route to the vantage point of Pico Viejo when the sun sets
Of low difficulty and fully established, the trail to Pico Viejo Vantage Point is a viewpoint in itself which with the sunset, acquires a chromatic and scenic beauty that leaves no one indifferent.
Within the network of trails in the Teide National Park, the trail to Pico Viejo Vantage Point is called Route No. 12 but it is also known by the name of Montaña Chahorra.
With its spectacular 800 m diameter crater, Pico Viejo is located at an altitude of 3,104 metres, facing the west side of the so-called Pilón or the apical cone of Teide.
Did you know that the last historical eruption in the area of Pico Viejo occurred in 1798?
Walking along the trail of Pico Viejo, you will have the opportunity to see, in the distance, part of the lava poured during the eruptive process of 1798, which lasted three months and formed the "Teide's Nostrils" or "Las Narices del Teide", the craters which spewed out lava during that historical eruption and which are located on the western slopes of Pico Viejo.
"Las Narices del Teide" are not visible from the viewpoint of Pico Viejo. However, what we do perfectly see from this spectacular route is the cauldron-like structure of a big caldera and its natural enclosure by vertical rock walls, Montaña Guajara being the most outstanding among them.
Walk the trail to Pico Viejo at sunset and let your memory store the image of the Sunset Show at the heights of Tenerife, with the neighbouring islands accompanying you while you say farewell to the day.
Other trails at the summit of Teide
From the upper station of the Teide Cable Car it is also possible to enjoy two more trails, along with the trail to the vantage point of Pico Viejo. Get more information on all trails at the summit of Teide and make the most of your visit to the highest peak in Spain.