Languages:
Mount Teide for small private groups at sunset
If what you are looking for is to enjoy Teide in a private group of maximum 90 people, of different nationalities, in this incredibly magical moment as the sunset usually is, when there is no one left on the summit, with our Sunset Tour you will fall in love with Teide at twilight so much that you will wish this experience never ends.
During the Sunset Tour on Mount Teide, which lasts 5 hours and a half, you will enjoy the spectacular volcanic landscapes that the Teide National Park is famous for while the sun is setting.
The arrival of dusk gives the area a warm glow, which allows you to appreciate subtle differences in the landscape that you don't get to see during sunlight hours.
Since the visit takes place when everyone has already gone from the most visited national park in Europe, you will be able to seize the opportunity to observe the volcanoes that caused the most recent eruptions in Tenerife and get to know how the Canary Islands were formed, amid such peace and tranquillity as will relax all of your senses.
The Teide Cable Car is all yours on the Sunset Tour
Can you imagine what it must be like to reach an altitude of 3,555 m in your own private cable car?
Well, you don't have to imagine any longer because, with the Sunset Tour, this dream can become a reality! The Teide Cable Car will operate exclusively for your private group.
You will fly over craters and lava flows just before dusk.
Can you imagine the astonishing views at this time of day?
The sunset in Tenerife at the highest point in Spain in the shadow of the volcano
The Sunset Tour will make you feel really special and privileged.
This is one of the best places to observe the formation and evolution of Teide's shadow, thanks to its height and due to the fact that the views from its summit extend to all horizons.
Teide's shadow cast towards the island of Gran Canaria is one of the greatest spectacles that the volcano has to offer.
Marvel at the unrivalled sunset from Pico Viejo on the Sunset Tour
The trail that leads to the Pico Viejo viewpoint is a marvel in itself.
At sunset, this trail acquires a beautiful array of colours that will be sure to leave you speechless.
Accompanied by our guides, on Sunset Tour you will discover, step by step, the volcanic wonders around this very imposing trail.
And to bid farewell to the Sunset Tour, when the weather permits, you will experience a picture-perfect sunset with the islands of La Gomera, El Hierro and La Palma on the horizon, and the impressive Pico Viejo crater, which is 800 m in diameter, at your feet.
Did you know that the Pico Viejo crater once housed an impressive lake of lava?
Complete your Sunset Tour with a dining and stargazing experience
If you already know that you will be left wanting to know more after living this volcanic experience.
If you love to try flavours that are new and native of the places that you visit, you can experience a menu designed by Erlantz Gorostiza, a chef awarded 2 Michelin stars.
If the starlit sky fascinates you and you would like to see it from Mount Teide, where it is possible to see 83 of the 88 existing constellations…
There is a Sunset and stars on Teide waiting for you.
Highlights
A private group activity for those who want to enjoy Teide at sunset, when there's nobody else left in this magical place
The Teide Cable Car will operate especially for you and your companions
Marvel at the spectacle that is the Teide's shadow from Cable Car's viewpoint terraces
Take in the magnificent sunset at Pico Viejo – the most spectacular viewpoint in Tenerife
What's included
Transportation
A guide
Cable Car return ticket, private ride for a maximum of 90 people, divided into different language groups
What's not included
Food
Astronomical observation
Additional Information
Children under 8 cannot participate in this activity.
Prices:
In case of discount tickets for children or local residents, a supporting document is required to prove entitlement to discount.
Changes and cancellations
In the event that weather conditions impede the operation of the cable car in the evening of your Sunset Tour, we will give you a refund of the price of the combined cable car ticket at the following rates: €27.00 if you are not a resident of the Canary Islands, or €13.50 if you are a resident.
Check our Terms and conditions for information on other reasons for cancellation.
Pick-up points and hours:
NORTHERN PART OF THE ISLAND
TIME
SOUTH
TIME

La Chiripa Garden Hotel
Parque San Antonio Hotel
Noelia Playa Hotel
Dania Park Hotel
Black and Red (Concordia Hotel)
Titsa bus stop at the Meliá intersection
Teidemar Hotel
Garoé Hotel
Botánico Hotel
Kiosko Paragüitas

5.25pm

5.30pm

5.35pm

5.35pm

5.40pm

5.45pm

5.50pm

5.50pm

5.55pm

5.55pm

Tryp Tenerife Princesa Dácil Hotel
Best Tenerife bus stop
Columbus Hotel
Olé Tropical bus stop
Titsa bus stop at Las Dalias Hotel
Isla Bonita Hotel
Titsa bus stop at the CC. El Duque (close to Costa Adeje Gran H.)
Jardines del Teide Hotel
Plantación Hotel
Titsa bus stop Riu Arecas
El Mirador Hotel
Barrera Bahía del Duque
Titsa bus stop ave. Playa Paraiso
Bus stop Hiperdino - Roca Nivaria
Riu Buenavista Hotel

4:45 pm

4:55pm

4:55pm

5:00pm

5:00pm

5:10pm

5:10pm

5:15pm

5:15pm

5:15pm

5:15pm

5:15pm

5:30pm

5:35pm

5:35pm
Shops:
The base station's facilities include an information centre and a shop.
Toilets:
There are public toilets at the Teide Cable Car's base station.
Prepare for your visit:
To enjoy the Sunset Tour, you should prepare for extremely cold conditions, regardless of the time of the year in which you find yourself doing this activity, as even in summer, during the sunset, the temperatures are low at this altitude..
To enjoy your Sunset Tour, please follow our recommendations:
Wear warm clothing and proper footwear.
Due to the elevated luminosity, wear sunglasses.
Take plenty of water on hikes.
Important information about the Sunset Tour:
This activity includes a 40-minute walk both ways of medium-low difficulty, therefore you must be in good physical shape.
Please bear in mind that in the winter months it is more likely that the cable car is not operational due to adverse weather conditions.
If on the day of your Sunset Tour you are unable to use the Cable Car, you can enjoy the sunset from one of the viewpoints in the Teide National Park.
If the trail to the Pico Viejo viewpoint is closed due to ice or snow on the day of the Sunset Tour, you can enjoy the sunset from La Rambleta and skip the walk to the trail of Pico Viejo.
Restrictions:
Since the Sunset Tour activity includes a cable car ride, people with heart problems, or pregnant women cannot participate in it due to the risk that high altitude poses to their health.
Children under 8 cannot participate in the Sunset Tour on Mt. Teide activity.
The facilities at Teide Cable Car are not adapted to those with physical disabilities.
Dónde Estamos
IT IS NECESSARY TO BRING A PRINTOUT OF THE BOOKING CONFIRMATION.
When making your reservation, please indicate which hotel you are staying at and we will send you an e-mail with the pick-up point and time.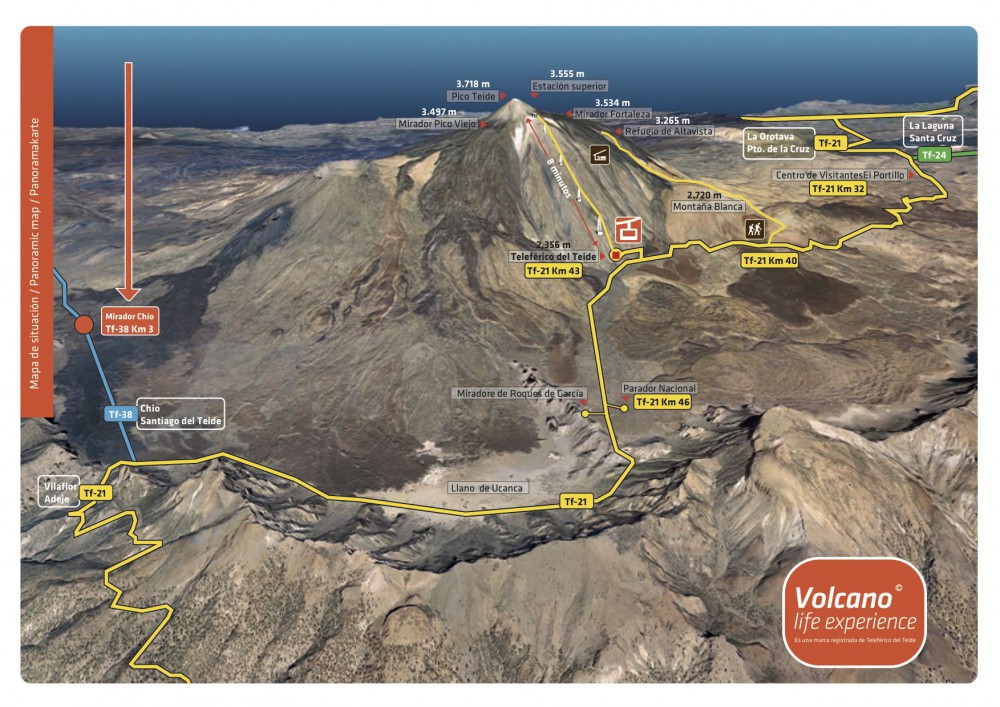 Location